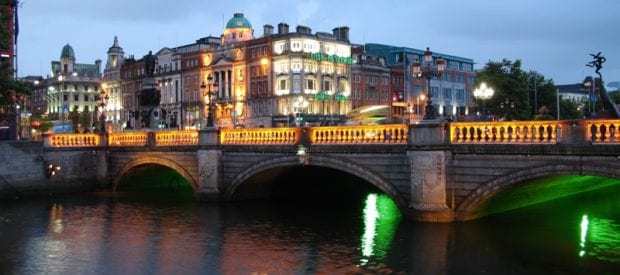 Planning a holiday in Ireland in 2017?
The end of January is usually the time when most people start to think about the summer – and begin planning their holiday. If you have never been to Ireland then summer is the best time of year to see this beautiful country.
Whether you plan to fly to Ireland, take the ferry, or make the drive, it is a good idea to plan your route before you go. Carlingford is a great place to stay; it's near the border and very beautiful, but Ireland also has some beautiful coves and mountains, as well as some great city sights, so be prepared for variety. Winter can be grim at this time of year, so why not brighten things up, and start making your arrangements when you can begin planning your 2017 holiday to Ireland now?
Dublin
You've probably heard the song about Dublin's fair city, and if you have ever been there then you'll know that is the best way to describe this part of Ireland. Dubliners are friendly people, and more than willing to tell you all about their home town. Dublin is a decidedly cultural spot, and in 2010 was designated Unesco City of Literature. This is the city that produced many famous poets and legendary writers, including James Joyce.
There is a route that runs through the city and is known as the Dubline, which is comprised of various trails that introduce you to the history, culture, and buildings of he city. But Dublin is also a place that is renowned for its nightlife and its sophisticated shopping. If you do decide to visit Ireland this year, then make seeing Dublin a priority.
Cork
If you are visiting the south of Ireland, then Cork is a must-see. Cork is home to one of Ireland's oldest clans, the O'Connells, which, legend has it, was the clan of the ancient King of all Ireland. There are plenty of places to stay in Cork, whether you are looking for a budget priced bed and breakfast or one of Ireland's grand hotels. Ireland is renowned for its hospitality; whether you choose a self-catering holiday or one of the city's many guesthouses, you can be sure of a warm bed, good food, and a fantastic welcome. East Cork has a rich history and is a favourite spot for summer holidays. Whether you are into shopping, sports, or literary festivals, Cork has a lot to offer its visitors.
Belfast
Consider a trip north of the border if you're coming to Carlingford! The troubles are long over in Belfast and more people visit the city every year. Like most other parts of the island, Belfast has a rich history, plenty of places to visit and a host of things to do and places to eat and drink. The transport links are good so you shouldn't have any problems getting there. While in the North why not plan a Giants Causeway Tour, considered one of the wonders of the world.
Why wait until the summer to plan your Irish holiday when you can start finding out about the options today?