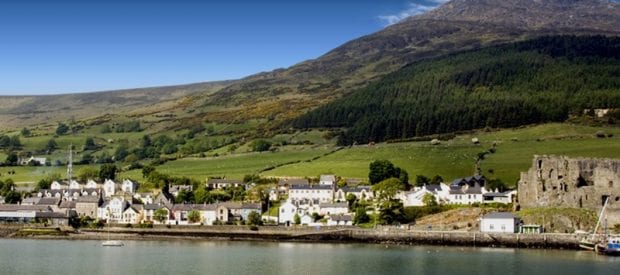 Things to do in Carlingford during your stay in Carlingford Heights
Carlingford, County Louth, Ireland, offers plenty of great activities that everybody can enjoy whether they're families, couples, singles, or just local people looking for something fun to do. The following is a quick rundown of some of the top attractions in Carlingford.
First up on the list is the magical Leprechaun and Fairy Underground Cavern. The naturally formed cavern has been transformed into a mystical home for leprechauns and fairies. Guests not only get to tour this display of wonderful geology, but they also get to listen to the local guide wax lyrical with stories of the days of old, when the leprechauns and fairies ran free in Ireland. Regardless of age, by the end of the tour you will probably believe in every word!
Up next on the list for thrill-seekers and the adventurous is the Carlingford Adventure Centre. This unique outdoor mega-centre for adults offers everything from a high ropes course to zip-lining, paintball, archery and more. The brave can even try out Zorbing (rolling downhill inside an inflatable ball) for a unique activity they will be talking about for years. There truly is something for everyone and those who want to experience it all can try multiple activities at the SkyPark or the Land Extravaganza.
Time for a Bite
The Carlingford Marina is a picturesque spot offering a great scenic view and plenty of nearby sights to tour. Within walking distance of the marina are half a dozen quaint bed and breakfasts, village shops, and some great local cafes. Cafe Marina is a great spot to dine and offers fabulous views, whether you sit inside or out on the terrace.
If you just want to get outside and enjoy the local scenery around Carlingford, then consider parking your car and walking or cycling along the Carlingford to Omeath Greenway. The off-road walkway is a great, safe option for families or those cycling recreationally, and features a variety of foliage and fauna along the walk. Depending on the season there are different wildflowers, plenty of birds, and sometimes even lambs out in the field as the sea laps against the shores.
Finally, a trip to Carlingford is not complete without a stop at the Candyford Sweet Shop. This shop is known for having just about every sweet you have ever heard of, and more. They have treats from decades ago, a full range of modern sweets, and even some from international suppliers. Those who feel the need to cool off will certainly take delight in their many unique flavours of ice cream, including honeycomb.